Another relatively new book on the market, Fine Motor Skills by Prim-Ed Publishing is a substantial offering. It is from Prim-Ed's new early years range and I love it. Prim-Ed have a whole new range of books for the early years which I will be reviewing this week.
It is an extremely comprehensive resource, full of detail, advice, resources and lessons. It begins by introducing teachers to fine motor skills, and how to get started. It contains lovely detailed checklists ( I love checklists!) on fine motor skills, and then moves on to starter activities, such as letter writing, mystery bag, button grab, banana dig, and texture hunt. These are lovely little games which I would love to use should I have infants next year! It then divides activities by type, such as art activities, marble activities, pretending games, squeezing activities, flipping activities, shaking activities, scooping and pouring activities, spreading activities and so on. They are too detailed to explain here so I'll post a photo!
The activities listed also integrate perfectly with areas of the curriculum and can form a standalone lesson in many subjects. One of the exploration activities, by way of example, focuses on floating and sinking. It gives a template with a number of activities and the children must circle those which float. A natural progression would be to turn it into a science lesson by conducting an experiment to see if we were correct.
I really like the puzzles section, which focuses on strengthening the wrist/hand. One puzzle gives a picture of a spider which is segmented into three pieces. The teacher cuts out and laminates the pieces and the children must try to put the picture back together.
This book contains lots and lots of lovely little poems which focus on finger plays. This can be part of your English lesson. My favourite aspect of this resource is the way every activity falls into a subject area- so you can use the activities to form your actual lesson, be it in English, maths, art or science.
The counting activities are splendid, from Bean Count, to Straw Count, to Button Sort and so on; they are really original and fun.
There are loads of sample lacing activities and templates too. The cutting activities are superb and again, several practice templates are provided.
The art activities are great for nice and simple art lessons for infants which promote fine motor skills, so it's ticking all the right boxes!
Really nice touches are the 'Number /Letter Books' at the back. These are templates which can be cut out and folded over for each child. Each booklet has a lovely cover for the children to decorate, and inside are the alphabet book pages, with a letter for the children to trace, and lots of room for them to practice their own.
The back of the book has loads of recipes for making all different types of play dough and paints. All in all this resource really packs a punch and has enough to last you the full academic year and longer.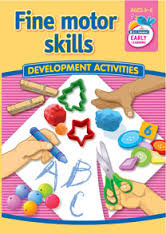 [pb_builder]